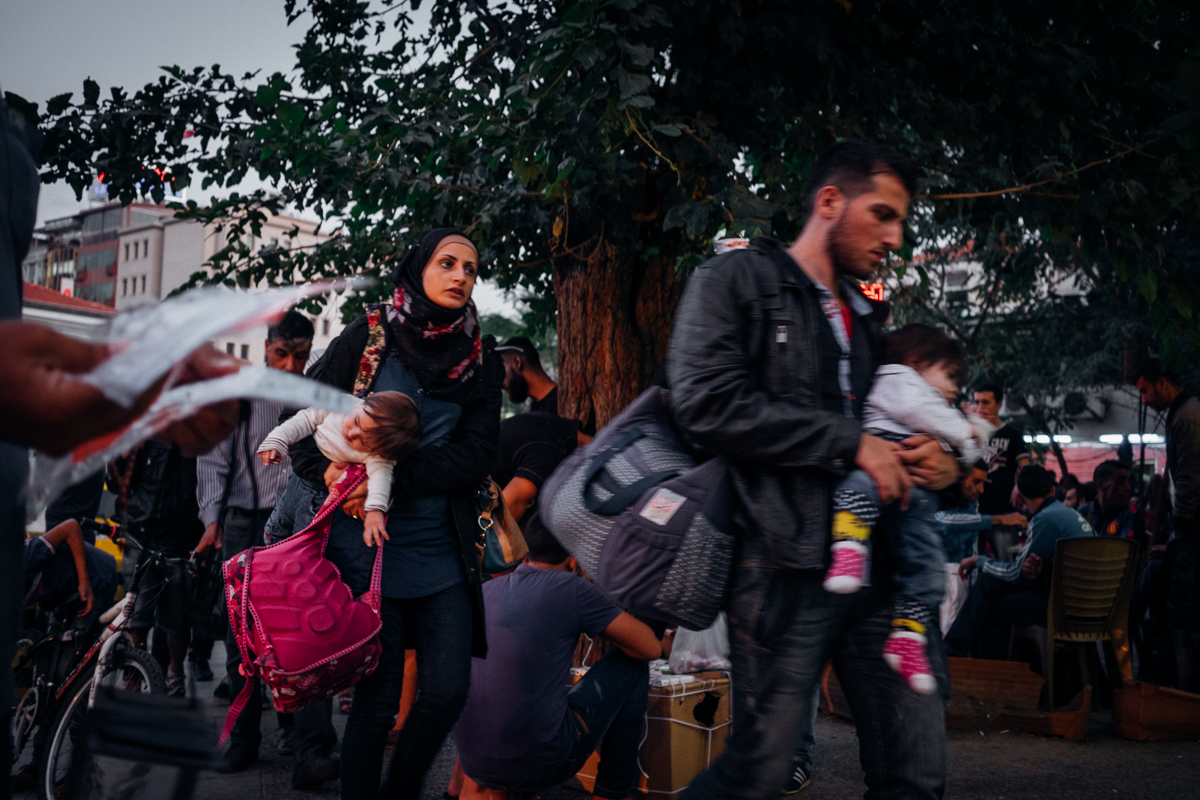 A young couple and their children rushing across Basmane Square, Izmir, a Turkish hub for refugees and smugglers alike. In this small square close the the main train station refugees and migrants connect with a smuggler to pay for a boat ride across the Aegean Sea. Boat rides were around $1,500 all through the summer of 2015. Sept 29, 2015.
Torn up rubber dinghies, which refugees have used for a dangerous sea journey between Turkey (on the horizon) and Greece. Oct 3, 2015.
Mariam, a 6-year old Syrian refugee just after having crossed the sea between Turkey and Greece with her twin brother and mother. Oct 3, 2015.
Most European countries keep locals from driving refugees lest they be taken for smugglers. Refugees have to cover vast distances by foot, often at night, where there is no public transport. Oct 3, 2015.
Many registration camps have charging stations for phones, the most important item in a refugee's possesion. It serves as compass, map, communication device and photo album when you miss your family at home. Oct 6, 2015.
Those who can afford it and who know about the hardship of the journey north buy a tent upon arrival in Greece, which will save them from many homeless nights until they get to their desired destination. Oct 4, 2015.
The Aegean Sea, view from the ferry. Oct 7, 2015.
A mother and her two young children fall alseep on the ferry taking her from the Greek island of Lesvos to the Greek mainland. They are headed for Germany in hope for a new life away from the Syrian war. Oct 7, 2015.
Refugees generally cross all borders by foot. The walk from Macedonia into Serbia is a ruggedy 5 mile stretch beside train tracks and through a muddy field. The area is officially called 'No Man's Land'. Oct 8, 2015.
A young Syrian mother and her two children are waiting for registration in Serbia for the third day and in rainy weather. The journey is hardest for parents and young children. Before registration, which is a legal requirement in every single country, refugees are barred from staying in hotels. Between Turkey and Northern Europe most nights are spent in camps, buses, or the streets. Oct 9, 2015.
Negotiating with a Macedonian taxi driver. Since Germany suspended the Dublin treaty in late August 2015, and no-one needs to fear being finger-printed elsewhere anymore, there have buses, dinghies, taxis, trains, and ferries shuttling the large numbers of refugees and migrants along. Oct 8, 2015.
Serbia is one of the few places where refugees pay for the transport by bus. Because the buses are a business, which can be considered part of the "refugee reconomy" there is never a shortage of them. Buses shuttle people to the Croatian border around the clock. Oct 9, 2015.
Jwana, 32, a young Syrian mother and widow, sitting with her twins Mariam, 6, and Youssef, 6, under a makeshift tent, awaiting further transport in Lesvos, Greece. Oct 3, 2015.
The daily evening ferry takes hundreds of refugees from the island of Khios to Athens on the Greek mainland. From there refugees and migrants will make their journey by land through the Balkans and on to Northern Europe. Oct 1, 2015.